About Chennai AstroVision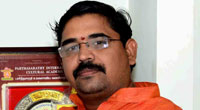 V Shri Raajkumar is an astrologer by profession with long years of experience. He has been practicing astrology from the age of 13 in continuation of his family tradition. His interest in the field borne him many fruits and many have benefited from his predictions, and remedies he had offered. He further pursued a post graduation diploma in computer applications.
For his success and contributions in numerology, he had been awarded the title "Enkanitha Chudar" in the year 2006. For his work in the field of astrology, he had been awarded with the title "Jyothida Ratna Jyothida Vibhushan, jothish maharishi jothidamamani,Enkanitha ratna" In the age of 20, he had been honoured in Malaysia with a momento for his participation in the international conference held for astrological sciences.
He is a constant visitor to Malaysia and Singapore for the purpose of consultations to offer cent percent results to his clients who are in dismay and rely on his remedy. He is also well talented in giving solutions and remedies relating to the family , childless couple , reunion, evil eye, etc.
Being an astrologer by profession he performs all kinds off homam pujas grahapraveshams, kumbhabhishekams and marriage ceremonies as a contribution towards his family traditions. His principles and suggestions are welcomed by all. Shri raajkumar has a vast collection of horoscopes, forming a databank to facilitate case studies. He is particularly interested in studies pertaining to life from birth to death through the medium of astrology.